Now that the dust is settled and we all know about the concrete changes in PMI ACP; the next step is to reserve ourselves for this prestigious exam. Most of the aspirants are either planning to appear for the exam during the pilot phase (15th July – 14th Oct) or after that. While the things look clearer for anyone who is planning to take up the exam after the pilot period ends; almost everyone else is wondering on how exactly they will be able to avail that 20% rebate in the exam fee. At the time of writing, we looked around the internet and realized that no information gave away the right guiding steps.
On contacting PMI, we got this important piece of information, which should prove to be extremely useful for our readers.
"Greetings,
Thank you for contacting customer care at the Project Management Institute.
For any candidate who takes the exam during the pilot period, the exam rebate will be processed within few weeks of the pilot concluding.
If you have any questions or concerns, please do not hesitate to contact customer care."
Here is the graphical representation of the process that will enable you to get 20% rebate on your exam fee.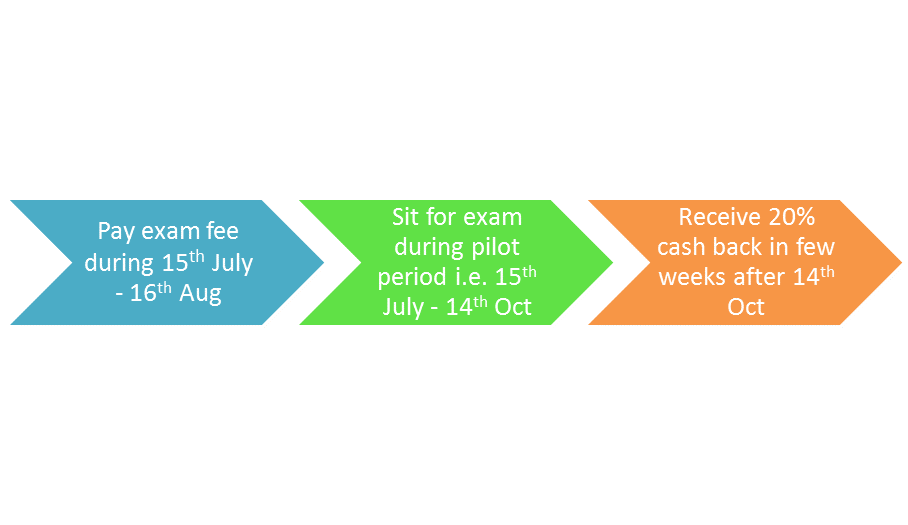 The 20% cash back will be credited back into account from where you originally made the payment.
The fee for the computer-based test ($435 for PMI members & $495 otherwise) will be paid after your application is accepted and you can schedule your exam at the Prometric center across the world. An important thing to remember is that the paper based test is $50 cheaper than the computer-based test but it is usually organized by PMI only in larger batches. Enrollments for paper-based tests are also handled by Prometric in the same way, hence, you must scout for events on
www.prometric.com/pmi
At Simplilearn, we ensure that our revised PMI ACP training program reaches you at just the right time so you can avail 20% discount offered by PMI. In fact, at the time of writing, we are the first one in the world to completely revise our PMI ACP Instructor led as well as online self-learning program based on the new syllabus.
As a benefactor, let's make this deal even more worthwhile by adding another special coupon code-'OSL30' for you.
Happy learning!